Decimated
, and sent it out just now to the very patient people who donated to Moonridge for it, lo those many years ago.
Our buyers are getting an exclusive illustrated version; a printable e-zine, 97 pages long. I can give you a sneak peek at the cover, which is my own (rather basic) bit of the artwork: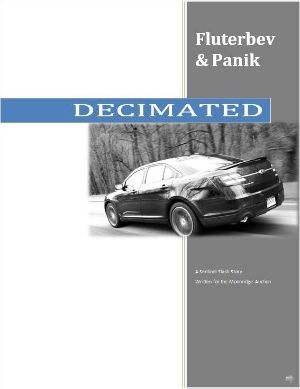 Gilly has provided some absolutely perfect interior illustrations, as well as formatting which makes it an attractive document our buyers can print and bind, should they so wish.
Unfortunately, no doubt due to the length of time that has passed, we've not managed to reach by email three of our buyers. The names we have for them are Alberta, Linnea and Karen/Foresthawk. If anyone knows them, please pass along the message that the story is ready, and we'd love to get hold of their current contact details so we can send it to them.
After 30 of our earth days have passed, we shall upload the story to AO3, the timing of which will coincide rather neatly with the 10th anniversary of my first ever posted TS fanfic. What better way to commemorate my tenth anniversary than posting a new story written with one of my best friends in the world, who I met through the fandom? The fact that it is a collaboration I loved working on epitomises the wonderful time I've had, and the lovely friends I've made, during my ten years of writing TS fanfiction :-).
::raises glass to my co-author and slurps it down in her honour::
Crossposted at http://fluterbev.dreamwidth.org/768927.html where there are
comments. Feel free to comment at either place :-)
I am delighted to report that Panik and I have made the finishing touches to our story